The lovely Rachel Bilson just recently beat out my former favorite person and role model, Lauren Conrad.. Although, she is still second :) When the OC came out, I wasn't allowed to watch it, much like many other shows and movies. I was in a movie stop a few months ago and saw the first season. I was so tempted. Afterall, I am grown now so I can watch what i want:P I decided to wait and looked on ebay to see if I could find it a bit cheaper. I found one and bought it immediately. I was thrilled to see that it was on my door step within a few days. I finished the first season in a couple short days and there, started my rachel bilson obsession. She has come so far since her OC days. Yeah, Summer dressed cute in the seasons but I feel as though she is just so chic and timeless. She can make absolutely anything look adorable. I find that, in most of her pictures, you can't even tell that she is a mere 5'2 because she has such a good sense of fashion. This girl really knows how to dress herself and her body type. Here are some of my favorite pictures of her and her amazing style. Don't even get me started on that hair! LOVELOVELOVE
All of these pictures are from google images.
the close up of that gorgeous hair of hers!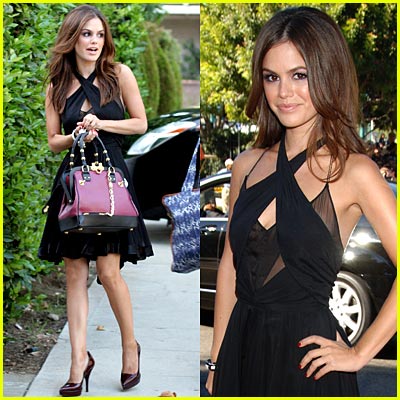 Just a few of the many gorgeous pictures of Rachel Bilson.
Whether she is walking her dog or walking down the street, she always looks effortlessly fashionable. And can we talk about her shoes?!?!? Amazing.